If you have noticed that your asphalt driveway has begun to look worn down, you may be wondering if it is time to have it replaced. While asphalt driveways will generally last 20 years, a variety of factors such as wear-and-tear and insufficient maintenance can cause them to fail prematurely. In particular, if you live somewhere that sees harsh winters and frequent freeze/thaw cycles, this can take its toll on asphalt. Yet, how will you know if your driveway is beyond repair and should be replaced? Here are a few signs you can look out for indicating its time to replace your asphalt driveway.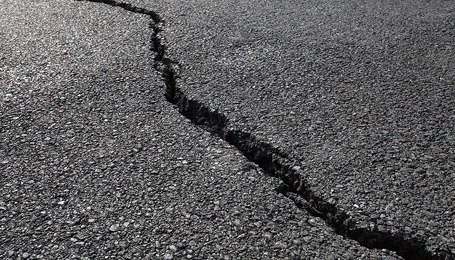 Its Getting Old
A clear indicator that it may be time to consider replacing your asphalt driveway is its age. As we previously mentioned, asphalt driveways last 20 years on average. However, if your driveway is over 15 years old and is starting to look worn down, you may want to consider having it replaced. It will likely be a better investment to have your aging driveway replaced instead of continuing to sink money into repairs.
Cracking is Extensive
As your driveway ages, it is likely that it will begin to develop cracks. However, seeing a few hairline cracks in your asphalt driveway is likely nothing to fret about, as these cracks can usually be repaired fairly easily. Alternatively, if there is extensive cracking throughout your driveway, and/or there are wide/deep cracks in your driveway, then it may be time to consider having it replaced. These cracks likely indicate severe structural damage that will require you to have your driveway replaced.
Potholes Are Numerous
Potholes in your driveway are more than just an eyesore; they can actually cause damage to your car every time you drive over them. While small potholes can likely be filled and patched, extending the life of your driveway, there may be cause for concern if there are numerous/deep potholes in your driveway. This likely indicates that the foundation of your asphalt driveway has been compromised, and it will soon be time to have it replaced.
Contact us to learn more about the signs indicating that it is time to replace your asphalt driveway.