Offering both aesthetic and protective advantages, asphalt sealcoating is a smart investment, one that provides both immediate and long-term benefits. Whether you are looking to extend the life of your newly paved surface, or seeking to refresh and protect older pavement, sealcoating is your solution. You can trust DC Paving & Sealcoating for quality asphalt service.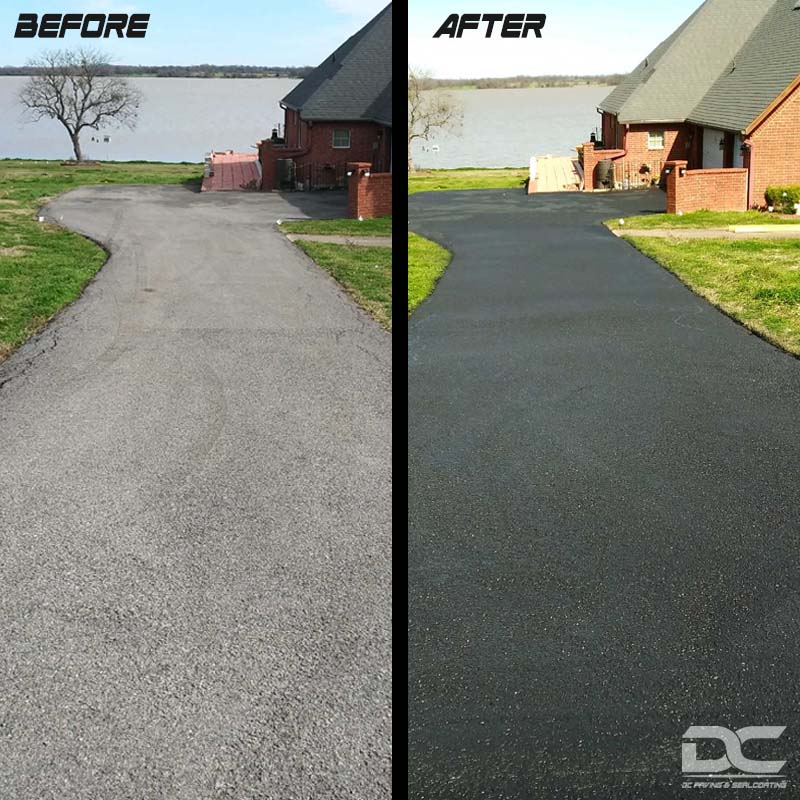 Protect Asphalt With Sealcoating
Sealcoating involves applying a top protective layer to the surface of the asphalt pavement. Asphalt is made up of rock and gravel and a binding agent. The binding agent must stay intact to protect the integrity of the surface. Sealcoating provides protection for the binding agent by shielding it from elements that contribute to erosion. These elements include UV rays, water, oil, gasoline and other chemicals. Sealcoating is the most cost-effective way to avoid expensive repairs due to pavement failures.
In addition to the protection it provides, sealcoating results in a deep black appearance that upgrades the look of the pavement.
Fresh sealcoating and restriping can transform a dated parking lot.
Regular asphalt maintenance boosts the curb appeal of residences with paved driveways.
Enhancing the overall appearance of a storefront or business, seal coating can bolster customer confidence.
When Should I Seal Asphalt?
A newly paved surface is ready for coating about 90 days after it has been laid. DC Paving & Sealcoating will confirm when the timing is right. It will depend on a number of factors, including traffic, use and environmental exposures, but generally speaking, sealcoating every two to three years can double the expected life of your pavement.
What Is the Process?
Before the sealcoat is applied, the surface will be thoroughly cleaned to make sure that all particles are removed. For older paved surfaces, we will also assess and make recommendations regarding any necessary crack repairs. The sealcoat can be applied in a few different ways; we will confirm application after analyzing your specific situation (size, access, surrounding structures, etc.). After application, the surface will need 24-48 hours to cure.
DC Paving conducts residential and commercial asphalt coating. We work with business owners to limit the impact of our work on their customer traffic. Similarly, for our residential clients, we ensure everyone understands the process and knows what to expect before we begin.
Experienced Asphalt Pavers You Can Trust
From parking lots to driveways, we have experience in all stages of asphalt paving and seal coating. You can trust us for expert advice and quality workmanship. Contact us today to discuss your pavement needs.